While Simply Green Lawn Service can provide a specialized turf treatment program for your specific lawn needs, we suggest starting with a soil test. By getting a soil sample done it will determine nutrient content, composition, and other characteristics such as the acidity or pH level. Soil nutrients vary with depth and soil components change with time.
Standard 5 step suggested treatment program:
Step 1. Early Spring
Step 2. Spring
Step 3. Summer
Step 4. Late Summer / Early Fall
Step 5. Late Fall / Early Winter
* These applications consist of the following: balanced fertilizer, pre-emergent, crabgrass, broadleaf and turfgrass nutrients.
** Additional treatments are available for grub worms, bagworms & nutsedge.
*** We will apply liquid or granular products to achieve optimal results.
Overseeding
Lack of water, too much heat, wear & tear, and other problems can make your lawn look worn and thin. Simply Green Lawn Service can help reinvigorate your lawn by overseeding. If you are using a weed control program, it is important you plant grass back in those areas to fill in or more weeds will grow back season after season.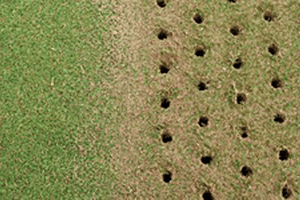 Aeration
Aeration is the most important process in relieving soil compaction, which in turn creates a more desirable environment for young root systems of turf grass to push through loose soil conditions. The better the root system the more vigorous and lush your turf will be.
Bare Ground Weed Control
Bare Ground Herbicides (sometimes called soil sterilants) are non-selective weed killers. They kill all vegetation and prevent it from growing back for an extended period of time. Bare ground herbicides are very desirable for use along fence lines, gravel drives, parking lots, and anywhere else you don't want the vegetation to grow.